What is Strong PAC and Why is OCU Implementing It?
The safety and security of our members is our top priority.
A Strong PAC strengthens your current password (PAC) by adding certain requirements, like uppercase and lowercase letters, numbers and special characters. Your PAC is the password you use to access online banking or your mobile banking app.
What are the New Password Requirements?
Your new PAC will now need to be a combination of capital letters, lowercase letters, numbers and symbols.
9 to 30 characters.
Upper case letters (capital) letters. Examples: A,E,R
Lowercase (small) letters. Examples; a, c, l
Numbers. Example: 2, 4 , 7
Symbols and special characters.

The only mutually accepted characters are

: – . , # : ? | ( ) ´ \ / @ $ !
When is the new Strong PAC change taking place?
You must change your password to a Strong PAC as of 10:00AM on February 21, 2023.
How Do I Change My PAC?
You can change your PAC at any time through MemberDirect or your mobile app. See below for specific instructions for each platform.
How Do I Change My PAC in MemberDirect?
When you first change your password from numerical to Strong PAC, a message will pop up on your screen when you visit MemberDirect. The message will tell you the new password requirements.
The message will look like this:
---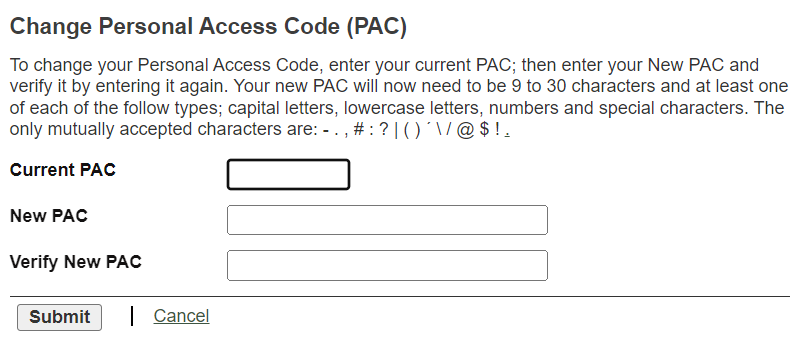 ---
How Do I Change my PAC in the Mobile App?
To change your PAC in the mobile app, login to your account. Select "Settings," and then "Change Personal Access Code." This will bring you to a screen where you can change your password.
The new password requirements will be outlined when you change your password. See below for the specific requirements.
| | | |
| --- | --- | --- |
| | | |
What is QuickView?
Quickview is a feature on your Mobile App that displays the balances of your selected accounts any time the app is open, without needing to login first. The default setting for Quickview is "Off". You can enable or disable Quickview under Settings > Preferences on the mobile app.
What if I enabled QuickView on the Mobile App?
If you enabled Quickview on your Mobile App you should disable it before you change your PAC in online banking. This can be done by logging in to online banking on a laptop or desktop computer and navigate to Account Services > Mobile Banking App and remove all previously registered devices. Once you have changed your PAC you can e-enable Quickview. If you are changing you PAC on the Mobile App, you do not need to disable Quickview.
Why am I locked out of my mobile app after updating my PAC on a laptop or desktop computer?
If you have enabled Quickview, you're allowing the app to retrieve and display balances using a stored PAC, which is now incorrect. This could eventually lock you out of online/mobile banking. Please see information above for instructions on how to disable Quickview.
Where Can I Get More Help?
Help in Member Direct: Select the "Help" link on the bottom left of your screen. Then select "Change Personal Access Code."
Help in the Mobile Banking App: In your mobile banking app, select the help (?) button in the top left of your screen. Select "How do I change my password in the app?"
Help by Phone: If you call the branch, we can talk you through the process of changing your password. 250-495-6522
Help in-Person: If you visit the branch, we can help you change your password in-person.
Strong PAC For Small Business
When are delegates required to change their PAC?
On your next login after Strong PAC is implemented (February 22, 2023)
Does the delegate have to wait for the authorized signer to change/update their PAC?
Yes. Delegates will need to be reactivated by signers once they have updated their PACs.
Can a delegate login to Online Banking Small Business prior to the signer reactivating them?
No. Signers must complete updating their PACs before they can reactivate any Delegates.
Will consolidated accounts display once the new Enhanced PAC is created?
No. A new strong PAC is required for both Personal and Business. Signers will need to ensure this has been completed on both Business and Personal profiles before consolidated account can be viewed.
Tips for a Good Strong PAC
A good rule of thumb for a Strong PAC that is easy to remember is to use a phrase and replace characters with numbers and symbols. Use a 3 instead of an e, a $ for an s, a 0 (zero) for an o or a 1 for an i and capitalize where it makes sense. If you consistently do this, it will become easy to remember.
When I was 17 -> Wh3n1w@$17!
Not with a bang -> N0tW1th@B@ng!
Blueberry shake -> Blu3b3rry$h@k3
What you should not do
The basics of password protection still apply.
Don't use the same password in more than one place. If that website gets compromised, then the bad actors will have access to every website you visit.
Don't just add a number to the end and keep increasing it by one when you change your password or access a new website. If one password is compromised, all the rest become easy to guess.
Don't use info about yourself to make your password (birthdate, childes name, addresses). The more a bad actor knows about you, the easier it becomes to guess your password, complex or not.
Visit our website for tips on how to protect your password and stay safe online: https://ocubc.com/privacy/cyber-security/
VIDEO: How to Create a Strong Password